PASSIONATE ABOUT FAMILY & COMMUNITY
local and loving it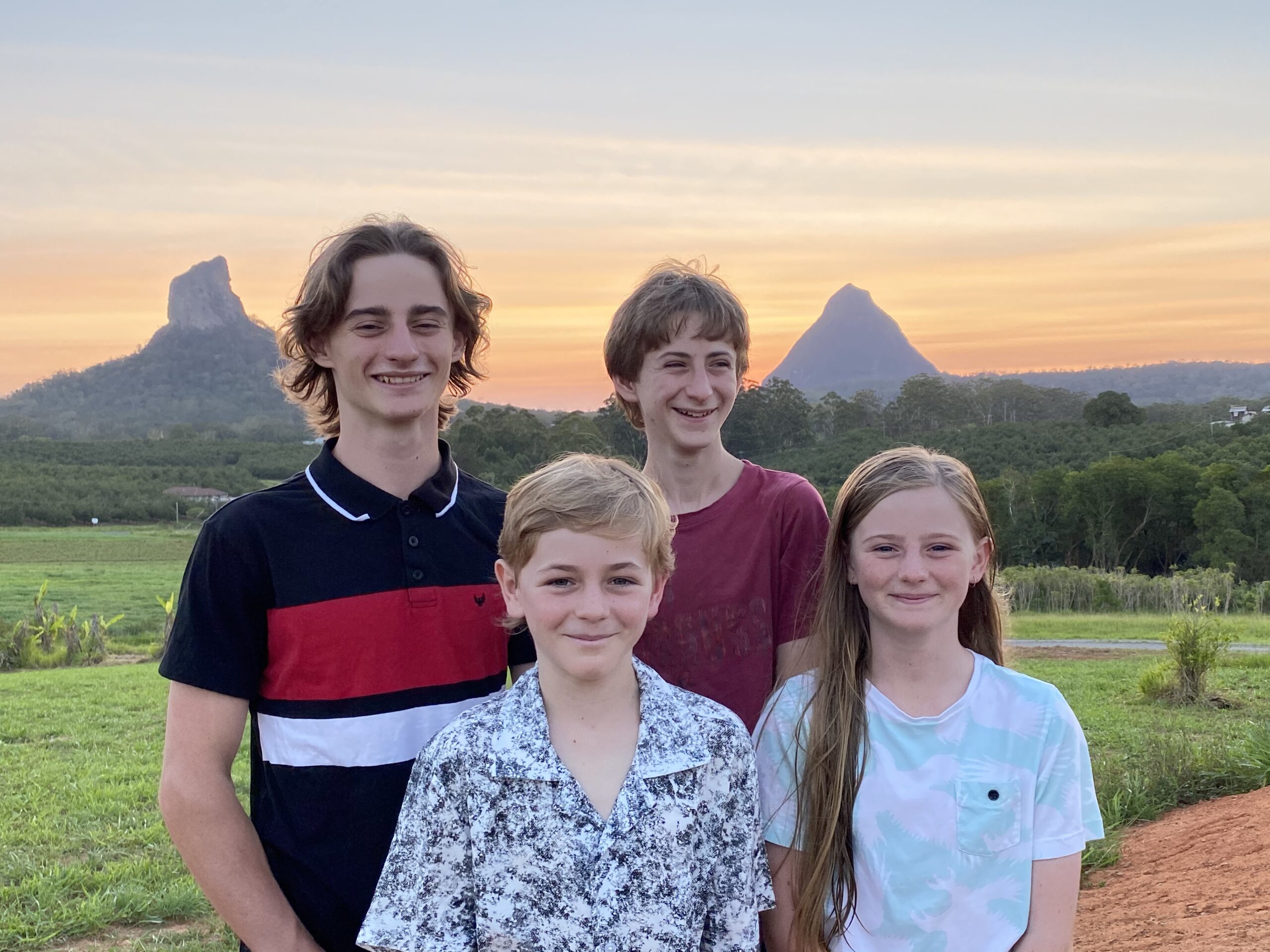 Mark and Jenny made the Glasshouse Mountains their home in 2002. They have been married for 20 years, have 4 children, all of whom have been born and (being) raised on the Sunshine Coast. Together they have established
Hillside Tractors Australia (formerly Glasshouse Tractors)
, and recently expanding to include
Vegetation Management Equipment (VME)
.
Jenny loves where she lives and simply could not imagine being anywhere else.  Her desire is to see a sustainable and balanced approach to growth, that brings enhanced quality of life, while maintaining all the great attributes that make our home the stunning place that it is.
She is an enthusiastic, hard-working 'people person' with business acumen, commonsense and passion for serving the community. She seeks to drive and promote opportunities that enable us thrive as collective Communities.
Her business experience, volunteering within the community and co-parenting four school-age children has enabled her to see ways in which our community needs real, fresh, relevant and improved representation. Many local people see and feel the same way. She would consider it a privilege to represent our community on the issues that matter to us.
what it takes to be a councillor
Qualities &
Expertise
 Relevant
A Council should be representative of the diversity of a region. Jenny  understands what it's like to be raising kids on the Coast right now; understands first-hand, what it's like what it means to manage a successful business & knows the sacrifice required to volunteer, understanding its benefits for the Community. She is actively engaged with a variety of business, social and community groups, giving her a unique appreciation for the diversity of our region. Jenny also recognises that there is a delicate balance between growth and sustainability and wants to see our culture, heritage and environment preserved for generations to come. 
Involved
Jenny's strong ties to the local community have been forged through agribusiness and volunteering with many local groups and events including; Coordinator and Program Director for the Glasshouse Country Carols 2011-2017, Music Director and Stage Manager for the Glasshouse Country Street Parties – Beerwah, , Beerwah's Got Talent at Charity Sports Days, Anzac Days , Remembrance days and the Music Department at Glasshouse Christian College. She has been Music Director at the Glasshouse Country Baptist Church for 10+ years.
Jenny is also an active member of several Community & Business groups, some of which include; Celebrate Glasshouse Country,  War on Waste – Glasshouse Country, Glasshouse Country Chicks in Biz, Maleny Chicks in Biz,  Caloundra Chamber of Commerce and executive member of Glasshouse Chamber of Commerce.
Qualified
Jenny is passionate about people and has an active interest in Community issues. This, combined with her extensive business experience, has provided her with significant experience in negotiation (both international and local), administration, account-keeping and marketing, strategy and decision making. 
Jenny holds a Bachelor of Psychological Science and Master of Business Administration (MBA)
A diverse range of volunteering and her business roles, have allowed Jenny opportunity to develop effective communication skills, the ability to engage with a range of people, demonstrate leadership and work effectively as a member of a team.
Independent
Jenny is genuinely serving as an independent Candidate, highlighting her eagerness to work constructively with all levels of government, aligning closely with the community rather than any political party. She firmly believes we need to work together to achieve the best outcomes for our collective communities, advocating for the needs and aspirations of our residents. If elected, she will seek to approach both State and Federal representatives to try and coordinate combined 'listening posts' within the electorates.
character & commitment
Jenny's
Commitment
Effective Communication is Essential
Jenny will:
√ Communicate with our Community
√ Be involved, engaged and available.
√ Be willing to be held accountable
√ Represent and meaningfully engage with the community
√ Make decisions in the public interest
√ Ensure effective and economical delivery of services
√ Clearly and accurately explain council decisions
√ Accept and value differences of opinion
√ Exercise good governance
√ Seek to develop open and transparent processes and procedures
√ Demonstrate effective leadership, meeting our Communities' expectations
what other people say
testimonials
Jenny is not only a superwoman but an inspiration in all departments. Her caring but pragmatic nature is awesome. She works tirelessly in the background of many things and is very approachable. She definately has my vote!

Karina Bielenberg
Jenny will make an excellent councillor. One who will properly represent the residents. I look forward to seeing her at work in this new pursuit!
Rowan Matthews-Frederick
Jenny will bring honesty, integrity and a can-do attitude to this role.

Jacqualina Vreeling
Not only does Jenny appear to be extremely proactive and involved positively in many areas of our local community, she seems to get results when the current elected members fail miserably. It would be good to see someone so active and caring about the community " and not just self serving and self promoting" in a position to be of most benefit to our wonderful community.

Susan Childs
Am feeling good about the possibilities of the future when you are elected…..first impressions are important you ticked my box

Kim Brockwell
Supporting Mental Wellness!!

Heidi Langley
Her total commitment 150% to all she puts her hand too

Barbara Barker
Jenny – is a lovely lady.
Who has shown a sincere interest in our community. The family own a farm & have worked hard to produce a living .
Jenny is amazing with her gift of music and often plays for community events. I wish Jenny all the very best.

Heather Gillam
Vote 1
Jenny Broderick
Candidate for division 1, Sunshine Coast
Passionate. Involved. Engaged.